---------------------------------------------------------------------------------------------------------
______________________________________________________________________________________________
Apple Varieties description
Paula Red- McIntosh type apple with softer flesh and a pleasant sweet\slightly tart taste. Excellent baking apple, perfect for apple sauces.
Zestar- A Very crisp eating apple with a tart/sweet flavor. Can be baked with
Summer Treat- very sweet delicious type apple with a Sweet/Starchy flavor. Doesn't keep very well, available for only a limited time
GingerGold- Very Sweet and crispy with a hint of starch. Very similar to a golden delicious. Can be baked with
Molly Delicious- Very Sweet eating apple greatly similar to a Red Delicious.
Gala- Very sweet/ starchy eating apple
Wealthy- Older apple variety with a tart and jucy flavor. Excellent apple for applesauce
McIntosh- Classic apple variety with a mildly tart flavor. Excellent apple for applesauce, bakes into a more smooth texture than other apples.
Cortland- Classic apple variety with a firm/crispy texture and sweet to mildly tart flavor. Best apple for pies because they hold their shape better while being cooked.
Macoun- Cross between a McIntosh and a Cortland. Crispy yet soft texture with a mildly sweet flavor. Excellent baking apple
Harrelson- Very tart apple with a firm texture. Can be baked with, makes a great applesauce
Wolf River- Older apple veriety favored by bakers. Grows very large (making it easy to peel by hand) and has a slightly tart yet bland flavor (allowing other flavors to be "expressed" more in baking).
HoneyCrisp- To some, considered to be the perfect apple. Very Sweet flavor with the perfect crispness to complement. Can be baked with.
Empire- Cross between and Red Delicious and McIntosh apple, Empire have a mostly tart\ slightly sweet flavor with a very jucy texture. Great overall cooking apple that keeps very well.
Jonathan- Tart, holds shape in oven well and makes a great applesauce
Jonagold- Sweet with a mild tartness, great all around baking and eating apple
Red Delicious- Sweet/Starchy flavor, keeps very well
Golden Delicious- Very sweet/ mildly starchy flavor, can be cooked with
Winesap- Tart, soft texture, very jucy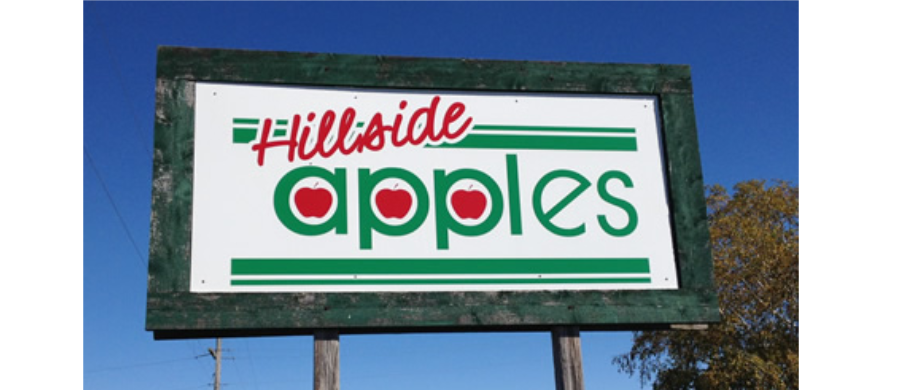 Hours

Monday~Saturday 8 A.M~ 6 P.M
Sunday 10 A.M~ 5 P.M
Mums!!!
We are now out of mums for the year. We estimate we started the year off with roughly 5,700. If you did not get the color you wanted or none at all, make sure you plan to stop in earlier for next year.
Available Soon

**
Red Delicious (1-2 Weeks)
Golden Delicious (1-2 weeks)
Jonagold (1 Week)
Jonathan (Soon)
*Apples labled as "tart" are not technically ready. However for those looking for a sour apple are more than welcome to pick their own. We will not pick these apples until we feel comfortable with the flavor.
**Available soon dates are educated guesses on approximate ripening of the apples. These are estimates,they can (and usually) change quickly.
About the crop (2019)
This year we had a late spring and some odd weather. Due to the late spring, we are a few days to about a week behind a normal schedule. Here at Hillside, we like to make sure that the apples we pick have the best flavor before we pick them and try not to rush mother nature. We are starting to get more normal "fall like" days and colder nights which will bring on the color and flavor for the apples.
Fall Harvest Festival 2019
A big thank you to everyone who stopped out to our harvest festival this weekend! This was our biggest festival ever! If you missed this year's festival, keep an eye on our website for information for next years festival.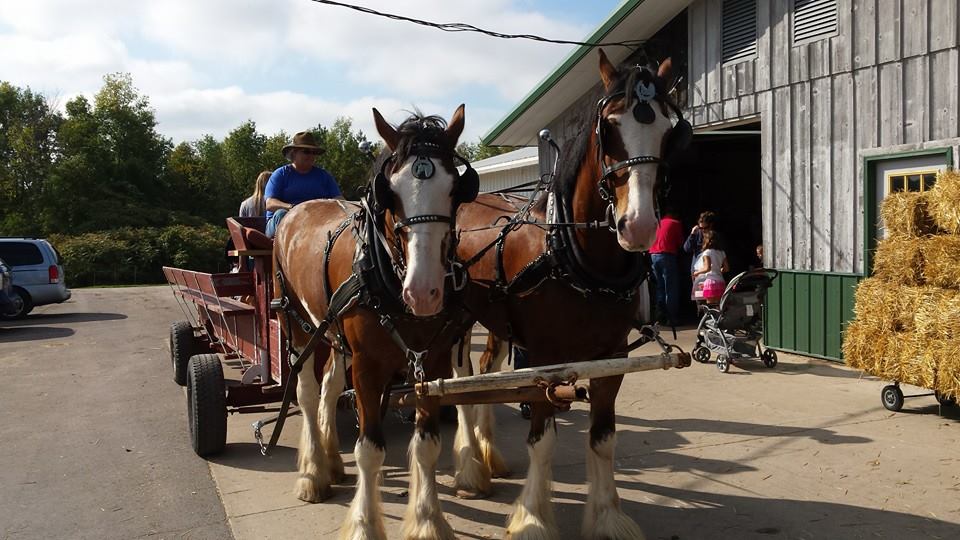 *Honeycrip pick your own*
Honeycrisp pick your own is now available! The price is $1 per pound. Please keep other apples in a seperate bag as regular PYO is ¢.75 per pound.
Cold Weather and its Effect on the Apples
As the temperatures start to drop and we get frost at night people always ask us the same question, will the frost affect the apples. To put it simply, no. When we get frost at night (below 32°), the sugars in the apple will protect the apple from damage. However if we start to get much colder temps (usually below 28°), the apples will start to drop or receive damage. This usually doesn't happen until mid to late November and by that time we have most everything harvested.
Another question we get is, don't apples need a good frost to ripen? It is believed that certain apples like the golden or red delicious which start off with a very starchy taste, need a frost to convert the starches into sugars. This is considered an old wives tale and is not true, apples will ripen on the tree with time.